Nigga Please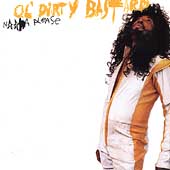 Released Date: September 9th, 1999
Track Listing
01. Recognize
02. I Can't Wait
03. Cold Blooded
04. Got Your Money
05. Rollin Wit You
06. Gettin' High
07. You Don't Want To Fuck With Me
08. Nigga Please
09. Dirt Dog
10. I Want Pussy
11. Good Morning Heartache
12. All In Together Now
13. (untitled) - (hidden track)
Personnel includes: Ol' Dirty Bastard, 12 O'Clock LA the Darkman, Shorty Shit Stain PA, Kelis, Chris Rock (vocals); Pharrell Williams, Chad Hugo (various instruments); Dominique Maybank (guitar, bass); Big Baby (horns); Mike "Suga" Allen (drums).
Producers: RZA, Irv Gotti, Flava Hood's Big Baby, The Neptunes.
Reviews
The Source 11/99, pp.213-4
4 mics out of 5 - "...a solid, non-formulaic, hip-hop album with major label push....Like his quasi-namesake [Jesus] from a couple of thousand years back, he's willing to sacrifice his life for this...Either that or the nigga 'is' crazy."
Vibe 11/99, p.185-6
"...NIGGA PLEASE, is the biggest, baddest, best record of the year, maybe of the past few years - a biblical storm set to funk beats....Not since Ozzy Osbourne's heyday has a musical artist done evil so well....as touching at times as it is offensive at others..."
Rap Pages 12/99, p.149-150
"...Ol' Dirty is one long interlude intertwined with the actual songs....ODB is one of a kind - you just can't hate him or hate on him." - Rating: C
Rolling Stone 10/14/99, p.119, 127
4 stars out of 5 - "...the ultimate guilty pleasure. This is African-American nihilism at its most resolute and shamelessly hilarious....hysterical and mad-brilliant..."
Spin 11/99, p.184-185
8 out of 10 - "...[a] dazzling, daffy album....ODB works hard to invite you into his head. It's a strange place..."
CMJ 1/10/00, p.22
Included in CMJ's "Beat Box '99 Top 5" - "...ODB howls like the ghetto Captain Beefheart with a serious God complex. Possibly the strangest rap album ever made..."
Alternative Press 1/00, p.96
3 out of 5 - "...the individual tracks are greater than the sum of it's parts. Ol' Dirty is a twisted seer who speaks in metaphors and isn't afraid to let his mind state hang out in the air."
Entertainment Weekly 9/17/99, p.77-78
"...agreeably funky in a Stax/Volt kind of way....it sounds as if [O.D.B.] stumbled in off the street and began ranting about whatever popped into his mind....[NIGGA PLEASE] is a fascinating snapshot of a deeply conflicted man..." - Rating: C+
Copyright 2002, The Original Free ODB Coalition