The Trials and Tribulations of Russell Jones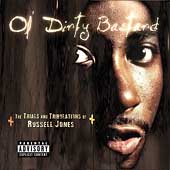 Released Date: March 19th, 2002
Track Listing
01. Intro
02. Caught Up
03. Dirty & Stinkin'
04. Dogged Out
05. Free With Money
06. Anybody
07. Waitress #13
08. Reunited
09. Here Comes The Judge
10. Cute Devils
11. I Wanna Fuck
12. Highjack
13. Lintballz
14. Zoo Two
15. Anybody
16. Taking A Shit
17. C'mon
18. Dirty & Stinkin'
Personnel includes: Ol' Dirty Bastard, Insane Clown Posse, Sunz Of Man, Mack 10, Buddha Monk, Brooklyn ZU, Big Syke, C-Murder, Too Short, Royal Flush, E-40.
Producers includes: Tytantic, One Eye, The Trackstars, Erik Norquist, Brooklyn ZU.
Engineers includes: Brooklyn ZU, Erik Norquist, One Eye.
Review
The unpredictable, irrepressible rapper who once desired to be known as Big Baby Jesus spends most of THE TRIALS AND TRIBULATIONS OF RUSSELL JONES doing what he does best. The album is full of hardcore hip-hop that's as informed by ODB's left-field quirkiness as it is by street-life scenarios and graphic lyrics.
The R&B-tinged "Caught Up" may be teeming with thug boasts, but most of these come from guest Mack 10; the loopy mack daddy parody that opens the track is more indicative of ODB's wacky sensibility.
Throughout the album, ODB sounds just unhinged enough to mean exactly what he says, even though a degree of ironic distance is implied. It's that gray area that provides the essential tension making him a vital artist.
Copyright 2002, The Original Free ODB Coalition